Toppings, Syrups and Straws
Ice Cream Toppings, Syrups and Straws
This selection of Professional Toppings and Syrups are demanded by top of the line Ice Cream vendors as being their best value for money. The thick and heavy syrups add full flavor with one pump portion with out the addition of an excessive amount of sugar. Our range of straws also come in top quality paper shake straws and the edible wafer straws. Our paper straws will easily last the drink, without going soft and collapsing.
Ice Cream Toppings
BCS Foodpak are the sole suppliers in New Zealand of Trisco Foods, Food syrup flavourings, that have a strong reputation for quality and flavour. They offer a wide range of full flavoured syrups/toppings that are used by discerning operators to create perfect milk shakes and thick shakes without compromising on quality. BCS Foodpak's Trisco's syrups, are demanded by the large Ice Cream chains, both in Australia and New Zealand, because they are full strength and cost effective. They insist that one 30 ml serving (1 pump squirt) is sufficient for any Shake. Chocolate and Caramel in particular, are so thick that these two syrups are also used as a flavoured sauce topping, on Waffle Baskets, Sundaes and Banana Boats. As Trisco's supply in 3 litre bottles (not 2 litre) you will get 100 x 30 ml portions/serves from any flavour. Compare that to the number of serves that you get from the lower quality syrups that are available. They are sold as a budget priced, low quality flavour, most needing 2 plus portions (60 to 80 ml) per shake.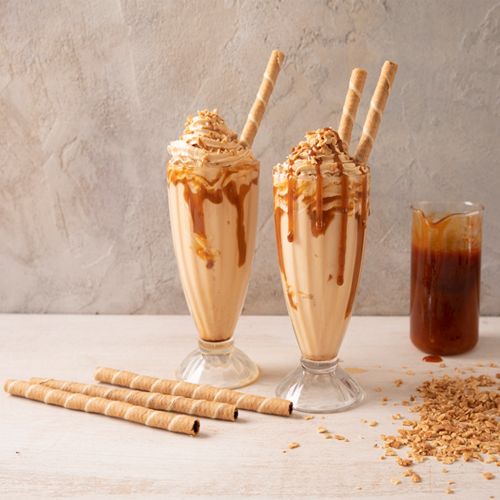 Ice Cream Syrups
BCS Foodpak's range of Trisco's bright colourful syrups, have a huge eye catching appeal, when served in a clear PET glass as other people are attracted by the colourful designs that are visible in the bright clear PET glass. Serve your shake up with an edible, Chocolate lined Wafer Straw. We will have them in stock very soon so please watch out for them or contact us for an update on availability.