Wooden Dishes & Cutlery
Our range of wooden gourmet disposables are manufactured from natural wood, usually White Pine, using sustainable forestry practices that do not damage the environment. In addition to their elegant and clean looks, these renewable wood products are also biodegradable and compostable.
Disposable Cutlery NZ
Add a professional and original eco touch, to your culinary creations !

BCS Foodpak has a range of Disposable Tablewares, featuring Wooden Boats, in 7 sizes ranging from tiny through to extra-large, serving Wooden Cones, in 3 sizes and Wooden Plates, again 3 sizes that are perfect for dining, whether it's for any type of celebration, catering function, picnic, or party.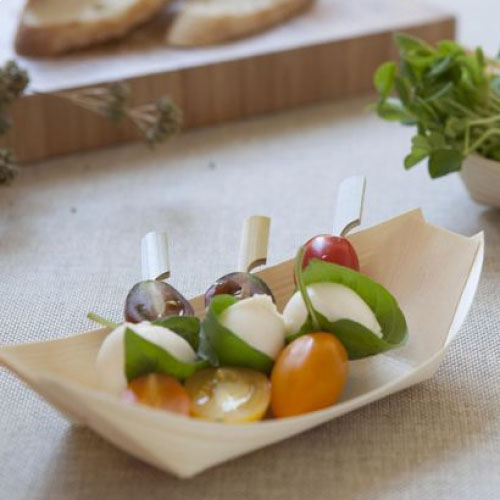 Disposable Wooden Tableware sets the sophisticated mood in table settings, whether it's Wooden Plates, pine Boats, Cones and Cutlery. The use of Disposable Wooden Tableware as place settings, creates the bio-friendly caring for the environment impression, it makes cleaning up a whole lot easier, it also BCS Foodpak's complete range of Wooden Disposable tableware, will help to make your choice easy and your function a success with our convenient pack sizes of your choice of Disposable Tableware.
The Wooden Boats, Wooden Cones and Wooden Cups are offered in packs mostly of 50's while our disposable cutlery collection, Knives, Forks, Dessert Spoons Teaspoons and even Wooden Sporks and Cocktail Forks and skewers, are available in packs of 100.