Paper Takeaway Containers
Paper Takeaway Containers
Our range of Paper Paper Takeaway Containers offer many different types of product including paper Cups & Tubs, BetaBoard Boxes and Trays, Banquet CaterBoxes, paper sheets and paper serviettes.
Takeaway Packaging
All are Compostable and most are Recyclable.

BCS Foodpak offer takeaway Food Containers and BetaKraft Containers and Lids, that are internally lined with PLA offering compostable and eco-friendly alternatives to disposable plastic food containers. Our range comprises of, Banquet 2 Window Boxes, Banquet Lunch Boxes, Banquet Bio Trays, Food Bowls and Containers and Lids, all suitable for hot and/or cold foods. Our Round Food Containers with lids are available in 8oz, 12oz, 16oz and 32oz volume sizes.

The BCS Foodpak selection offers endless options that will suit your demanding requirements. We have an environmentally friendly selection of Food Packaging for all of your takeaway needs.

This range of containers, that BCS Foodpak offer, can be used for any variety of takeaway foods, hot or cold, take home meals or take home ice cream. Our Compostable and Biodegradable takeaway containers, are available in a large variety of shapes and sizes. We offer eco-friendly options for Takeaway Food Containers, that are made from rapidly-renewable, responsibly-sourced resources that use bamboo pulp, sugar-cane pulp, wheat fibre, bio-plastic, and sustainably-sourced paperboard.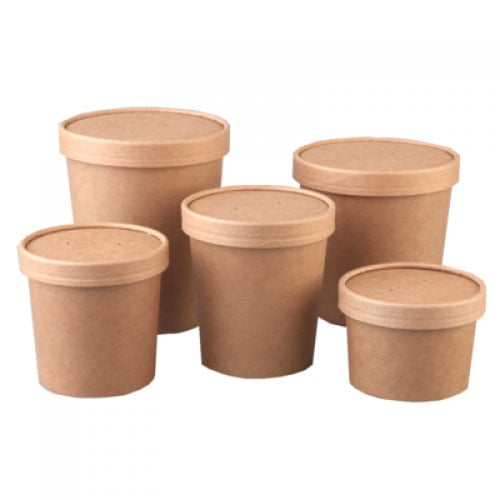 These eco-friendly Takeaway Containers are either commercially compostable and/or recyclable, which reduces greenhouse gases, and returns nutrients back to the earth, thus improving soil quality, and it all costs less than sending waste to landfill.
Where composting is not an option, many councils will recycle paper takeaway packaging with other paperboard products that are processed into cup carry trays, egg trays and glass packaging etc. Our takeaway Food Containers offer packaging options, that are an eco-friendly alternative to plastic disposable food containers and our ranges of Food Packaging is designed suit a wide variety of hot and cold foods.
BCS Foodpak has a comprehensive range of Paper Containers, Boxes, Trays and Tubs, are all made from a renewable resources that are 100% Compostable and Biodegradable and are 100% Recyclable in your curb-side recycling bin. Our range of natural Brown Kraft Clamshells and Trays and Round Containers and feature as an important part of our Environmental Pulp Range are extremely popular in food courts and most are both available in the same Clamshell and BetaBoard Tray sizes. Whether you prefer the natural soft brown colour of bamboo or the darker kraft appearance, our range of Food Containers, Bowls, Boxes, Trays and Tubs will offer you the perfect solution. Nearly all our Food Packaging ranges have an ECO-PLA lining on the inside and all are 100% Biodegradable and Compostable.