Wooden Products
Bamboo Packaging
Our range of wooden gourmet disposables are manufactured from natural wood, usually White Pine, using sustainable forestry practices that do not damage the environment. In addition to their elegant and clean looks, these renewable wood products are biodegradable and compostable.
Bamboo Boats NZ
Add an original and eco-friendly look and touch to your culinary creations!

BCS Foodpak is privileged to have the support of the major manufacturer of wood based, Disposable Catering and Meal Serving settings, by offering this sophisticated Disposable Tableware range. All are compostable and biodegradable. From our best known Bamboo Boat Range, that is available in 7 sizes that range from baby, to extra-large, then complementing our Wooden Boat range, commonly referred to as the "Bamboo Boat" range, (the boats are actually manufactured from European White Pine). This same wood material is extensively used in our Wooden Cones and Wooden Serving Cups.

An alternative to the Wooden Boat range of serving plates we offer our strong and sturdy Wooden Plates. These Wooden Plates are available in 3 popular sizes, compromised of Small, Medium and Large. These elegant Serving Plates will compliment any impressive formal table setting as well as being entirely suitable for a buffet or finger food serving situation. Serve up with a premium table napkin and wooden cutlery. The sturdy and practical, Wooden Cutlery range include Wooden Knife / Fork / Dinner Spoon and Teaspoon. Also included in our Wooden Cutlery selection, we have Sporks, Cocktail Forks, and a couple of variants of Bamboo and Wooden Skewers.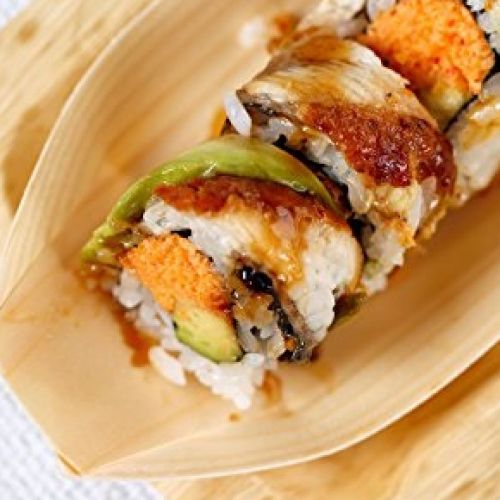 BCS Foodpak's new addition to our all natural, Compostable Disposable Wooden Tableware, is the small, but premium Palm Leaf Range. This range of natural, sustainable plates and bowls, are made from the fallen leaves of the areca palm tree. These 100% biodegradable plates and bowls are durable, individual, lightweight and required minimal processing from tree to table. The fallen palm leaf is gathered (it is not cut – only the fallen leaves are suitable), washed in spring water, then heat-pressed into shape (this also sterilises the leaf) – no chemicals, waxes, dyes or additives are used. This Palm Leaf group, of Wooden Tableware plates and dishes, can be recycled. Simply wash, dry and store. They can successfully be reused a number of times, showing the true versatility that this range offers. Proving real economies, while also being wonderfully Eco-Friendly. Palm Leaf Plates are a stylish and unique alternative to other disposable tableware on the market. What better way of utilizing nature's gift of fallen leaves! This is truly nature's Disposable Tableware.