We offer the best biodegradable packaging in NZ & compostable takeaway options for the safe delivery of food and beverages.
At BCS Foodpak, we're proud to be the largest online seller of disposable and takeaway food packaging in New Zealand - the land we love. Because we know that our natural environment's a unique one, we've committed to becoming the leading supplier of biodegradable packaging in NZ.
That's why we supply a range of eco-friendly products made from options including corrugated board, bamboo, and PLA, a leading compostable material.
We offer a range of compostable and biodegradable packaging in NZ, including:
Boxes
Food Trays
Catering boxes
Containers and lids
Food bags
Cutlery and glasses
… and much more!
Just read on to discover more about our range of biodegradable packaging in NZ.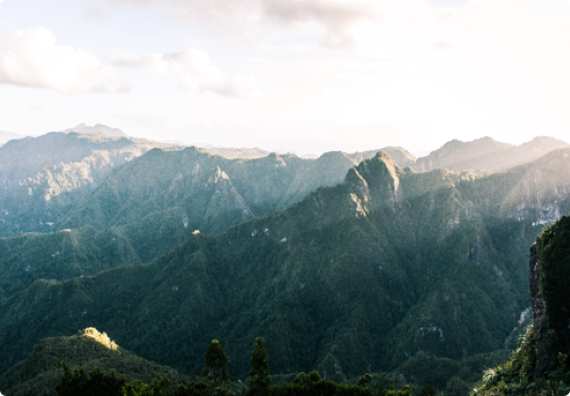 Specials Food Packaging Supplies for this month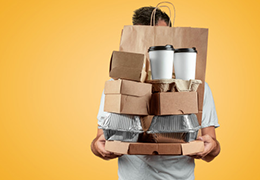 Boxes
We offer a range of eco-friendly boxes to suit your needs. Looking to get lunch sorted? We offer lightweight paperboard lunch boxes with safely locking lids. Our windowed salad boxes proudly present their contents for your customers and easily stack. Made with corrugated brown kraft paperboard from sustainably managed forests, our BetaBoard snack boxes are perfect for heavier combinations, like fish and chips. We even have special sizes for sandwiches, hamburgers, and hot dogs.
Food Trays
We offer a range of food trays, including ones made with natural and renewable sugarcane pulp. This makes them the perfect serving solution if you're looking for an option with a cleaner life cycle. They're 100% compostable, even in a backyard compost or worm farm. Leakproof and 100% compostable, our Kraft Bio Trays come in 5 handy sizes. Our containers from Sabert's feature moulded fibre pulp bases with recyclable PET lids. These quality packaging units are microwavable, oven-proof, and freezer friendly.
Containers and lids
Our range of lidded containers features a host of sizes and materials to suit all your eco-friendly packaging needs. Our PLA-based salad containers with matching lids are a great choice for showing off quality ingredients and top presentation in an eco-friendly way. Microwave, oven-proof, and freezer friendly, our range of BetaEco Wheat Fibre containers are perfect for takeaway meals.
Bowls and plates
Our Fibre Begasse plates and bowls are made with natural and renewable sugar cane pulp. This makes them a fantastic compostable serving solution for functions and events. We also offer three different sizes of Kraft paper board food bowls with recyclable PET lids. If you're looking for plates, our flat wooden plates come in two sizes, the perfect compostable choice for fantastic food presentation.
Food Bags
Made from nature flex, a certified compostable film, our food bags are a fantastic choice for bakeries. Made from timber cellulose sourced from sustainably managed plantations, these transparent bags are anti-static and protect your products from damaging air and moisture. We also offer our food bags in special sizes:
Cookie
Cake slice
Long roll
If you can't find a size you need here, get in touch with us at 09-277 0104 - we also make custom bags to your sizing requirements.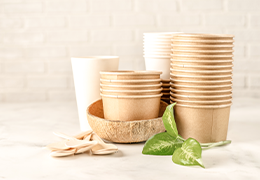 Cones and cups
Our wooden cones and white pine cups come in a range of sizes. They're the perfect option for hors d'oeuvres, samples, and other finger food options.
Glasses
We offer glasses made from PLA, the world's favourite compostable material. They're crystal clear, showing the stylish presentation of your drinks. With our matching domed or flat PLA lids, they're great for milkshakes, smoothies, and other takeaway drinks.
Cutlery and others
Our eco-friendly range also includes cutlery and other accessories, including:
Wooden tasting spoons
Wooden cutlery
Biodegradable cutlery
Skewers (in knot top, kebab, ball top, and flat top variants)
Eco-friendly serviettes (in cocktail, luncheon, and dinner variants)
Bamboo cocktail forks
To find out more about our products, just click here to see our range of biodegradable packaging in NZ. Or, for more information or to request a custom order, call us at 09-277 0104 or email [email protected]. We look forward to seeing how we can help you with your food packaging needs!
SPECIALS BIODEGRADABLE FOOD PACKAGING SUPPLIES FOR THIS MONTH